This is a completely ridiculous post and by bringing up the point I'm sure I'm jinxing the city and now it's probably bound to happen. Still though, it was on my mind, so I'm going to give you what I think the top 10 potential new sites would be, ordered from least to most likely, if this were to happen:
10) New Orleans, LA (New Orleans Arena)
Why this would happen: It's an NBA caliber arena already and is relatively close in proximity to OKC. And hey, we borrowed their team for awhile, so why not return the favor?
Why this wouldn't happen: New Orleans barely supports their own team, which happens to be one of the elite members of the Western Conference. How can they support a new start-up team, who by the way, is terrible.
The Verdict: Would never happen, but thought I'd give a shoutout to the guys that gave OKC its start.
9) Albuquerque, NM (The Pit)
Why this would happen: Again, relatively close to OKC. Somewhat of an aura surrounds The Pit and I think Albuquerque would be supportive.
Why this wouldn't happen: OK, its a college arena, nobody cares how prestigious it is or how loud it gets when the Lobos play there.
The Verdict: Albuquerque has no real chance. Clay Bennett would aim much higher than this, I'm sure.
8) Little Rock, AR (Alltel Arena)
Why this would happen: Yeah, close to OKC. Fans probably starved for major league action, could see a lot of sellouts
Why this wouldn't happen: Alltel Arena sucks. Neither the city nor the arena is close to NBA-size.
The Verdict: Little Rock, like the cities before it, has no realistic shot.
7) Stillwater, OK (Gallagher-Iba Arena)
Why this would happen: It's in the state, fans would definitely support it. Gallagher-Iba is one of the more storied arenas in college basketball.
Why this wouldn't happen: Stillwater isn't, wasn't, and never will be an NBA city. It's a college arena and town.
The Verdict: Still unlikely, but this is the first city that at least has a chance.
6) Norman, OK (Lloyd Noble Center)
Why this would happen: Norman is a lot more closely related to OKC than Stillwater is, like a long-distance Edmond or something. The LNC has hosted a few NBA games before, so apparently it has something to offer.
Why this wouldn't happen: Come'on, its the LNC! That place is notorious for not being able to fill up. It's nowhere close to NBA ready and the concessions really suck. They've got a freaking Starbucks!
The Verdict: Norman gets in over Stillwater only because of their "extensive" NBA experience.
5) Seattle, WA (Key Arena)
Why this would happen: They've got a freaking Starbucks! OK, seriously though, I have no doubt that they would make a real strong push for the team, claiming that its only right that they keep the team while we rebuild. Big city, NBA proven.
Why this wouldn't happen: Ultimately, Bennett has the final say, and despite the heavy pressure he'd get from the city and the national media, I doubt he'd ever want to step foot in Seattle again. Plus, for all we know, Seattle fans could hold a grudge and not even show up (not that they did that great of a job of showing up back when they had a team anyway)
The Verdict: They'd definitely fight hard for it, and it would be a fierce battle, but I think Clay looks elsewhere. Small chance this ever would happen.
4) Birmingham, AL (Birmingham Jefferson Convention Complex)
Why this would happen: They made a strong push for the Hornets when they were displaced by Katrina, so theres good reason to believe they'd do the same when an F-9000 twister hits Bricktown.
Why this wouldn't happen: The facilities are very mediocre and the city, from what I heard from local media personalities covering OU's NCAA tourney trip this year, is sub-par.
The Verdict: They're the first legitimate players for our team in this list. Still, they'd definitely be the underdog among cities with a legitimate shot.
3) St. Louis, MO (Scottrade Center)
Why this would happen: St. Louis has been in the NBA team market for a long while now, so they could see this as their shot to get back in The League. St. Louis is one of the greatest sports cities in the US and the arena is NBA caliber.
Why this wouldn't happen: It's not so much what St. Louis is themselves, but OKC could definitely do better than St. Louis, no offense to the arches. There are just better options out there, two of them, as a matter of fact.
The Verdict: A lot better chances than Birmingham, but I just don't think that St. Louis would really want them that bad. I'm not sure just how NBA-hungry they are, unlike my next city...
2) Kansas City, MO (Sprint Center)
Why this would happen: Brand new arena, and the people of Kansas City are starved to fill it with something other than the AFL or Big XII Tournament games. Good city, fans definitely would support the team.
Why this wouldn't happen: It's hard to find reasons against it, except there happens to be a city that would be really hard for Clay to pass on.
The Verdict: Honestly, if OKC moved here because of some tornado, I think they'd have a hard time coming back. The arena is fantastic and the city would show up in herds (thundering herds, perhaps?)
1) Tulsa, OK (BOK Center)
Why this would happen: One of the reasons Clay was able to sell David Stern on OKC was because it was a dual-market. It would be very tempting for OKC to move over to Tulsa. The fans would show up, it's close to home, and right now, their arena is better than the Ford Center.
Why this wouldn't happen: Tulsa is pretty small-ish for an NBA town and I'm not 100%sure about this but they may become the smallest NBA city. And, like I said before, Tulsa people, in general, hate OKC.
The Verdict: Though I secretly hate to see anything good happen to the city of Tulsa, I have to say that this is the most likely destination for OKC to be displaced for a season or two. Really, it's kind of a two-city race between Tulsa and KC with St. Louis and Birmingham in the mix.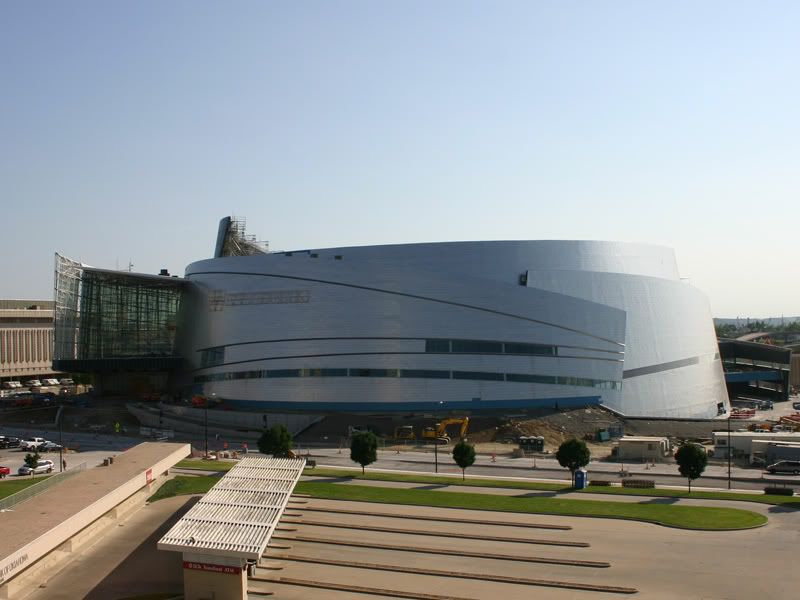 Also, OKC logoed gear was moved by the crate-full into OKC and the Ford Center today. A reminder, we are days away from the logo being revealed (Sep. 3) and we will let you know ASAP what the team name, color scheme, and logo is, so stay tuned.