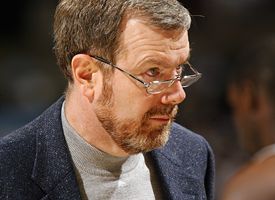 As you all know, Zorgon was on the field reporting for us at Leadership Square. As you also know, he attended the press conference wearing an old Seattle Supersonics jersey. After the epic and now infamous unveiling of the logo, Zorgon bumped into the Thunder's head coach, P.J. Carlesimo...
Here is how it went down (paraphraded, again):
P.J.: (Pat on back) We need to get you a number 35 jersey
Zorgon: (not knowing who it was) Oh, yeah.
P.J.: (Walking away)
Zorgon: (now realizing who it was) Oh, hey, I loved you when you coached for the Warriors!
P.J.: Thanks.
Also, Zorgon had the priviledge of speaking briefly with Channel 4's Bob Barry Jr...
BBJ: I'm lovin the jersey, I'm tellin' you.
Zorgon: Yeah, thanks.
Zorgon was also interviewd briefly by the Oklahoman, "a guy with a moustache" according for Zorgon, so be on the look-out for that.
Apparently a lot of people are walking around with OKC logo shirts now, kind of like those "Oklahoma City" shirts people were wearing per-logo, or so I hear.